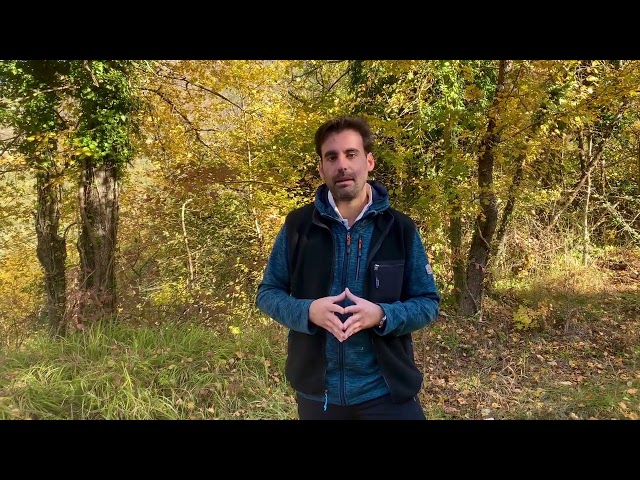 Rewilding Apennines: Come and join us in 2024
Watch Rewilding Apennines' Valerio Reale explain how our funding for rewilding helps acquire land for wildlife corridors.
Created with the support of local farmers and communities, these corridors aim to allow nature to thrive and enable the region's endangered Marsican Brown Bear and other wild animals to roam freely.
At Exodus Adventure Travels, we passionately seek to improve life through travel — for the places we visit, the people we meet, and the planet we explore. Our Nature First Plan outlines how we intend to ensure that our adventures give more back to our natural world than they take. In 2021, we started working with biodiversity experts, Rewilding Apennines, to help us work towards this goal.
"Working with Exodus Travels is hugely important for us to scale up our local rewilding impact on the ground. Our partnership not only helps to address climate change, but also boosts biodiversity, helps raise awareness of how animals and people can co-exist in a sensitive area and it provides wide-ranging benefits for local people."

Valerio Reale – Head of Enterprise at Rewilding Apennines
Who are Rewilding Apennines?
Rewilding Apennines is a non-profit organisation (NGO) based in central Italy. The Central Apennines features peaks reaching nearly 3,000 meters, grasslands, deep canyons and some of Europe's oldest beech forests. It is a biodiversity hotspot and also the home to the endangered Marsican brown bear as well as the grey wolf, Apennine chamois, red deer, golden eagle, Griffon vulture and a number of other species.
The organisation works to support natural processes such as forest regeneration and free flowing rivers and it acts to remove invasive species and reintroduce native species to diversify environments. To help people and wild animals coexist, they have also established a number of coexistence corridors to connect the local economy with nature. In some areas, they've also initiated 'bear smart communities' – a model that encourages cooperation and solutions that aim to reduce human/wildlife conflict.
With their extensive knowledge and unrivalled expertise in the areas of biodiversity and wildlife protection, the team also pursue rewilding as an effective climate solution which helps to increase climate resilience, provide an effective carbon sink, and counteract the emerging environmental threats created by rural land-abandonment. Working collaboratively and building good relationships with local communities, National Park staff, landowners, and regional governments, this forward-thinking NGO is leading the way in the conservation movement across the wild heart of Italy.
Why is regenerating nature so important for climate action?
Rewilding helps to restore and protect our planet's ecosystems and biodiversity, which in turn plays a vital role in tackling climate change. Healthy natural ecosystems, like diverse forests, wetlands and grasslands, help provide highly effective carbon sinks, removing carbon dioxide from the atmosphere. However, when we diminish or degrade these ecosystems, for example, through deforestation, farming and industrialisation, we not only lose these carbon sinks, but any stored carbon dioxide is released into the atmosphere. In turn, this contributes to a rise in our global temperature, leading to melting icecaps, rising sea levels and the further destruction of our biodiverse regions. We need to help find ways of working with nature, instead of against it.
The Nature and Carbon Corridors Project, Italy
Our project with Rewilding Apennines began in 2021 to support their goal to rewild 5,000 hectares of the Italian Apennines over the course of five years, promoting recovery of regional biodiversity. Wild Italian landscapes like these are particularly close to our hearts as Italy remains our most popular destination for active and outdoor holidays.
Our support has allowed the team to establish five nature corridors that connect the surrounding National Parks. This allows for safe passage of local wildlife between parks and significantly increase the lush natural habitat this wildlife needs to thrive. In particular, the team hopes this will enable an increase in the endangered Marsican bear population, as well as the recovery of wolf, wild cat and many other animal populations.
Once rewilded, the land in the Italian Apennines will also provide an effective carbon sink, capturing an estimated 85,000 tonnes of carbon over five years.
Experience Rewilding the Apennines
Another way Exodus is helping to support Rewilding Europe's cause is with our trip, Italian Apennines: Walks & Wildlife. This trip not only allows travellers to see the beneficial impact of rewilding and building wildlife corridors first-hand, but it also allows us to engage local communities in the rewilding and conservation of these landscapes by developing 'nature-based' economic and employment opportunities through tourism.
All profits from the sale of this trip go to Rewilding Europe's vital biodiversity restoration work, and as with all of our trips, 100 square metres of land will be rewilded for each passenger who travels. Click here to find out more about this trip.
Our partnership with Rewilding Apennines is part of our Nature First plan which seeks to ensure our adventures give more back to nature than they take. Read more here.
Photography credits to Bruno D'Amicis & Angela Tavone / Rewilding Europe
The Adventure Begins Here
Get regular inspiration straight to your inbox from Exodus' experts.