Read time – 4 minutes
A refreshing breeze flitters through thick leafy foliage where a soupy river supports a vast array of plant life. Somewhat of an agricultural miracle, The Mekong Delta is the 'rice bowl' of Vietnam, producing more than a third of the country's annual food crop.
Here you'll find dense mangroves aplenty, and elongated boats weaving through floating markets, stacked high with prickly durians. Of course, the best way to get around is by boat. This swirling waterway nourishes the land, sustains a rich ecosystem and provides locals with ample fresh fish.
Fish farming is the main source of income in this part of the world, and the river is a place to call home, the office and a shopping mall for the Mekong Delta dwelling population.
Mekong Delta Guesthouse
Hugging the Mekong Delta is a very special guest house. At a point where the river splits to form a moat around a vegetation rich island, clamber onto a jetty from the glugging water and you're met by a huge sincere smile.
Follow Ut Trinh, owner of the homestay, as she welcomes you into her family home, an inviting traditional Vietnamese bungalow.
Family-run homestay
'We have something special' says Ut Trinh, and she isn't wrong. It's not just the allure of the ceramic roofed building enshrouded in warming dark smoky wood, the homestay is a real family-run affair.
With three members of her immediate family working alongside her, there is a strong sense of community on this little island. Even some of the neighbours chip in to provide a helping hand. The homestay provides Ut Trinh, her family and various friends with stable jobs and ensures money goes back into the local community.
Tending to the allotment
Simplistic elegance oozes from this calm and cosy hub. A spacious porch runs the entire length of the house. Complete with chairs and hammocks to kick back in, this is a dreamy setting to get lost in a good book or while away the hours in a peaceful slumber.
Pull back the tangle of twines to reveal an extensive garden allotment erupting with organic fruit and vegetables. If they're ripe, you can pick them straight from the vine. Tuck in as your host cradles a basket of mouth-watering, homegrown veggies, carrying them back to the kitchen to prepare.
The clang and thud of utensils means it's time to start cooking. Dinner provides the perfect opportunity to spend some quality time with your host family. Whip up a fresh feast and learn to cook tantalising local dishes on wood-burning stoves.
Amongst a rainbow of vibrant vegetables and fruits, the main attraction has got to be the divinely crispy grilled river fish. Delicious!
Preparing the fish
Your entertainment for the evening is a live singing performance, accompanied by traditional Vietnamese instruments. When you're contently full, retire to an enormous comfortable bed. Relish the freedom of an alfresco bathroom (don't worry, it does have four walls!) and stargaze while you soak.
This quirky washroom is a rustic bathroom-come-terrace, with ashy exposed walls, dotted with potted shrubbery – it certainly tops any tired old hotel ensuite.
A world away from the chaotic commotion of Vietnam's energetic cities, our Mekong Delta homestay is a restful retreat. In testimony to the charming warmth of Vietnamese hospitality, you arrive here as a guest, but you leave as family.
Find out more about Trails of Vietnam or Cycling Vietnam
Take a look at our video below to find out more about this wonderful Mekong Delta homestay.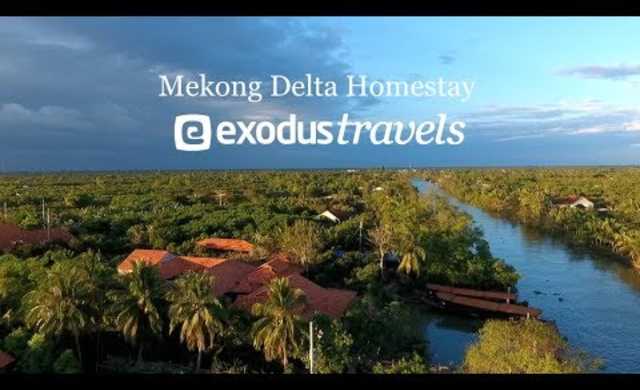 Discover more trips to the Mekong Delta below.